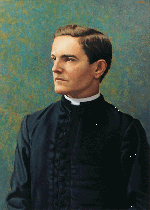 Father Michael J. McGivney - our founder - recognized and believed that the people of his day needed the protection that a life insurance program would bring. He wanted to guarantee that the Catholic widow and children of his time would be able to sustain the loss of their breadwinner, and continue with a life not afflicted with poverty and despair.
Today, well over a century later, the Knights of Columbus goal remains the same: protection of the Catholic families that choose membership in our Order.
In the days of Father McGivney, the insurance feature was a rudimentary system of collecting money and distributing benefits. Today it encompasses more than $31 billion of life insurance in force, with more than 1.3 million individual policies. A professional and knowledgeable agency field force numbering 1,350 brings the program to the home of every eligible Knight, tailoring a plan of life insurance coverage to meet his family's individual needs.
The Knights of Columbus insurance program has provided peace of mind to millions of men and women for more than a century. The continuing growth of the number of policies and the insurance in force is a testament to the confidence members have in the Order's ability to provide protection for them today, and well into the future.
PRODUCTS
We offer our members and their families permanent life insurance, term insurance, and annuities. The permanent life and term products are participating plans - plans that are dividend-paying - and include:
Whole Life.
Life Paid-Up at 95.
Life Paid-Up at 65.
20-Pay Life.
Single Premium Life.
Annual Renewable Term.
Five-, 10-, and 15-Year Level Term.
Term to Age 30.
Term to Age 65.
Decreasing Term Plans.
Flexible Premium Annuity.
Single Premium Deferred Annuity.
Single Premium Immediate Annuity.
In addition, term insurance riders are offered. We also sell a policy called the Discoverer, consisting of whole life insurance and an additional protection benefit (term insurance). Special rates for nonsmokers on all life certificates make these plans even more attractive.
The Knights of Columbus sells its insurance to its members, wives of members, and dependents. It is sold through a career sales force that currently consists of more than 1,350 full-time professionally trained field agents.
These agents are equipped with one of the most modern computer programs available. It enables them to perform a needs analysis of the member and his family. This needs analysis allows the agent and the Knight to determine together the total amount of insurance protection needed, and calculate the best way to package the products to meet those needs. Our products have been "Protecting Families for Generations." We would like nothing better than to have the opportunity to help you protect your family.
The Field Agent for the Holy Rosary Council is:
Shawn Paul

Field Agent

Call him for your insurance needs.

28443 N Lake Dr
Mora, MN 55051-6278

(320)679-6968

Protecting Families for Generations